CROSSFIT "Food for feet" A trainer guide for Crossfit participants.
Posted on
There are many choices available to the athlete choosing their first pair of CrossFit trainers. As a new beginner myself, a few years ago now, and in my own CrossFit gym or 'box' seeing new members it is apparent people initially use a trainer they already have in their wardrobe. This generally will be a running shoe or general trainer based on a running shoe. These shoes are ok to use to try out but once you have decided you want to continue with CrossFit then a specific shoe will make life a whole deal easier.
Traditional running shoes have a thick mid-sole which gives lots of cushioning, as well as features designed to facilitate smooth foot function during running but is unstable for the typical CrossFit movements you will come up against i.e. squats, jumps and weightlifting movements.
Pic 1. Brooks Adrenaline GTS 17 Pic 2. New Balance Minimus 40 Trainer Pic 3. Reebok Nano 7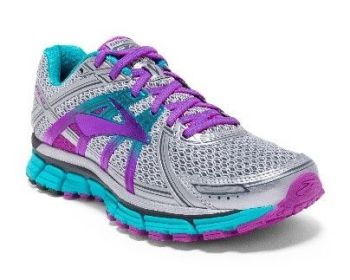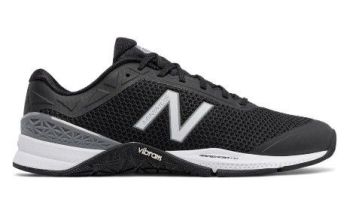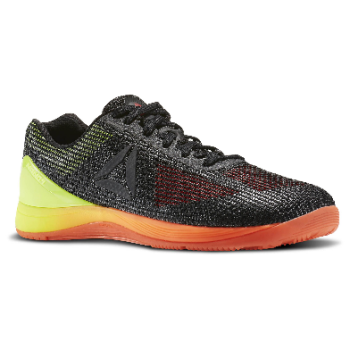 A high intensity fitness programme incorporating many different movements such as CrossFit demands a different shoe. The range available now is larger than in previous years and companies such as Nike, New Balance, No Bull, ASICS as well as the main CrossFit sponsor Reebok are all providing a shoe that is suitable. The guys at outdoorgearlab.com1 have provided a very good overview of the current products available (as of June '17).
So…. How to make your choice? Firstly, I am going to make it easy and tell you my opinion on shoes specifically for lifting, known as 'lifters'. Use them only for lifting, or simple workouts that have two or three specific movements, known as couplets/triplets, do not use them for running! This will come with experience and once you have been participating for a period of time you will start to think about these types of shoes. Initially as a 'newbie' the staple CrossFit shoe will be perfect for handling everything.
Most of the CrossFit shoes have become very similar recently and they all have a heel height of 4mm apart from the Reebok CrossFit Speed which has 3mm. A traditional running shoe (pic 1) will have a heel height of approx. 8-12mm which will help on long distance running. The traditional running midsole will also be thicker to provide the cushioning whereas a CrossFit shoe requires a low-profile midsole for stability, protective areas on the inside and outside of the shoe for grip with ropes and act to increase lateral stability and have a firmer midsole.
A shoe which is traditionally for running will be relatively stiff in the midfoot and flexible at the forefoot, to enable a good push-off, however have a thick midsole which would be unstable for CrossFit. The specific 'CrossFit' style shoes are more flexible due to the lightweight nature of the shoe, however require more rearfoot stability and will be firmer for the lifting elements. The Reebok Nano 7 is probably the most rigid for this while the No Bull is probably the most flexible.
With no injury history and an average foot, I would suggest a best fit from one of the selection given. Fit of any shoe will give best performance and comfort. From a clinical point of view, foot type and injury history can be considered, guiding you towards purchasing a certain style of shoe.
If width is an issue for you then narrow feet can try the ASICS Conviction X or No Bull trainer while a broader foot may want to try the New Balance 40 or Nike Metcon 3 as the upper is a softer material and should fit better. Note the Reebok Nano 7 has a new version which is a bit more flexible in the upper, known as the 'weave'.
For the lower arch foot type the Reebok Nano 7 would be suitable as it is more stable within the rear and midfoot. Someone with a higher arch may want to try the No Bull trainer first as it has a more forgiving upper. The best advice I can give is to try them on and see how they fit.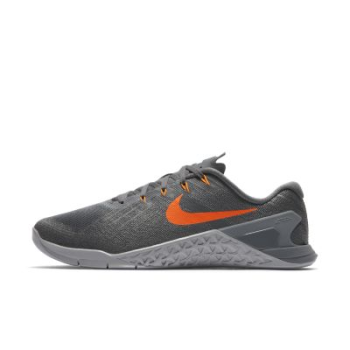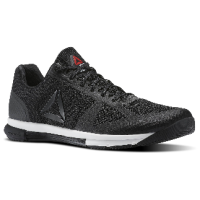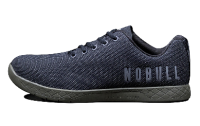 Pic 6 No Bull Trainer
Pic 5 Reebok CrossFit Speed TR
Pic 4 Nike Metcon 3
Specific problems such as Plantar Fasciitis, achilles tendinopathy and Medial Tibial Stress Syndrome (which has been historically called 'shin splints') are separate diagnoses and require attention. These conditions can have a few causes so you should address those factors including your alignment, strength, flexibility, training regime and running style. If things only occurs running then using a running shoe would be better and the New Balance 40 may be the most suitable 'CrossFit' shoe for this. However it is not going to be the 'cure' you are looking for! Find a good practitioner to help you.
Mr Thomas Austen
Podiatrist
Podplus, The Julie Rose Stadium Ashford Kent TN24 9QX Tel: 01233 660851
twitter; @podplusrunning Instagram; podplusashford
St Lawrence Clinic, KentCCC, Old Dover Road, Canterbury CT1 3NZ Tel: 01227 473606
Ref